An incredible evening of fun featuring amazing magical illusions, hilarious comedy, dance and more. Stars of NBC's "World's Greatest Magic," The Hamners present their award winning illusions. Jim Barber is considered one of the world's great ventriloquists and was recently featured on CBS's "Late Show with David Letterman."
The Hamners produce several enormous exotic birds. Their beautiful Macaws and Cockatoos appear amid flying cards, flaming swords, falling coins and jewels and then perform an incredible flight over and around the audience before gracefully returning to the stage. In 2006 the Hamners received their second prestiguous Merlin Award from the "International Magicians Society" as International "Entertainers of the Year."
Jim Barber's incredible vocal abilities as a singer and ventriloquist leave everyone talking. Jim was recently awarded the International "Ventriloquist of the Year" Merlin Award for his unique combination of magic techniques and ventriloquism. His one-of-a-kind characters and original, wholesome comedy have made him an audience favorite.
Add a talented troupe of singing dancers and you've got an enjoyable show for the entire family.
During November and December the show takes on a holiday theme as "The Wings of Christmas" takes flight. A Spectacular production featuring the best of their regular show plus original new music and breathtaking illusions that appeal to all ages.
Meet the Stars after the show!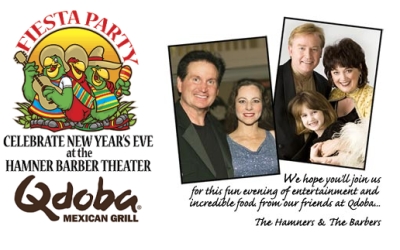 Join Us For A Magical New Year's Eve Show & Dinner! - Come Party With The Parrots & Puppets!
This New Year's Eve in Branson, there is no better way for you and your family to wind up this stressful past year than to laugh, dance and sing the night away the Second Annual Hamner Barber Theater New Year's Eve Fiesta on December 31, 2011. Not only will we serve up an extra special version of our incredible magical illusions and hilarious comedy, but to add to the festive theme, we'll have lots of fabulous, fresh food from Qdoba Mexican Grill of Springfield! It's a fantastic night out for singles, and a great way for couples and families alike to share in the fun of welcoming the New Year of 2012.
The Fun Begins at 9:00pm - Doors Open at 8:00pm
At 9:00pm the curtain opens on an expanded version of the amazing Hamner Barber Variety Show starring illusionists The Hamners and their beautiful tropical parrots that magically appear and fly over the heads of our astonished guests.
Co-Star ventriloquist Jim Barber and his wacky cast of characters will have you laughing so hard you'll bust your burrito! Jim was described was one of the most popular acts in Branson during his appearance on the Late Show with David Letterman.
In addition to the amazing production show, we will have fun contests with fabulous prizes, festive party favors, and of course, lots of fantastic food and drinks for all. Since we are encouraging families with children to attend this event, the wide variety of delicious delicacies from Qdoba Mexican Grill are easy to hold and enjoy. Of course, all our drinks are alcohol free just in case Junior decides to drive home himself.
The magic, comedy, music, fun and games will continue all the way up to our magical countdown to 2012 and the beginning of a brand new year of fun at the Hamner Barber Theater! This event will be the highlight of our eighth season in Branson and we invite you, your friends, and entire family to celebrate with our terrific cast, crew, staff, and of course...our own families as well!