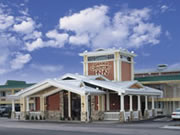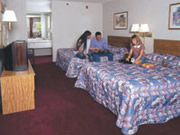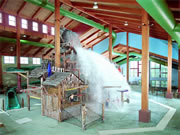 Conveniently located in the heart of Branson on the world famous 76 Country Blvd., Grand Country Inn offers everything you're looking for in vacation, retreat or tour.
Shows with world class performers, dining with a vast variety of choices in three very different environments, shopping, entertainment, relaxation and much more are available in one place. Indoor swimming pool, indoor and outdoor water parks and the world's largest banjo - it's the entire Branson experience in one location!
Our rooms are clean, spacious and relaxing. You'll find the staff at Grand Country gives you such special attention that you will want to return to Grand Country, in the Music Capital of the World, again and again and become part of the Grand family.
Splash Country Indoors is Missouri's first-indoor waterpark! No matter what the weather, jump into 20,000 square feet of squirting, falling and tumbling water! Splash Country Indoors is open 365 days a year and fun no matter what the weather is. During the summer months, add another 20,000 square feet of water fun with Splash Country Outdoors waterpark!
Indoor Outdoor Waterpark

Internet Access

Elevator

Restaurant On-Premises

Gift Shop

Guest Laundry

Handicapped Access

Hot Tub

Mini Golf Course

24 Hour Staff

24 Hour Front Desk

Adjoining Rooms

Cable

Conference Center

Connecting Rooms

Corridors

Cribs

Elevator

Game Room

GPS Address

Laundry

Local Channels

Maid Service

In-room Internet

Restaurant

Rollaway

Rollaway Price

Room Service