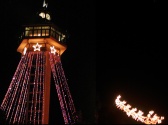 2012 Information
Enjoy a hearty, Christmas dinner, served straight off of a vintage 1800's chuckwagon.
You'll "Cowboy Up" to a big, hot, rib-stickin' bowl of 3-bean Trail chili, a big ladle of Cookie's Sparklin' dutch-oven Taters, an oven roasted chicken breast quarter, a whole flame-roasted ear of corn, a Texas-size slab of cornbread with honey butter, and a big bowl of fresh-made dutch-oven apple cobbler made right over the campfire, along with a hot cup of cowboy coffee!
As we celebrate Christmas on the Trail, you'll sing along, as we share a Cowboy Christmas, complete with your favorite Christmas Carols, and a special time of reflection on the true meaning of the Christmas Season! Join us around the campfire, as we create a Christmas memory complete with familiar carols, and unique cowboy reflections that will touch your heart and stir your memories! Then enjoy a complimentary trip through the Trail of Lights!
Be sure to see other Shepherd of Hills activities. Be sure to check out the combo specials on the Shepherd of the Hills Outdoor Play page!
Shepherd of the Hills Outdoor Play
November & December Activities