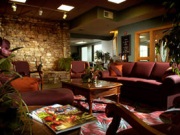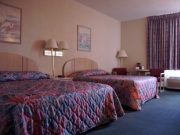 One of Branson's finest hotels, Branson's Cascades Inn is located on Shepherd of the Hills Expressway between Shoji Tabuchi and Hamner Barber theaters. Our excellent location provides our guests with easy access to the many alternate traffic routes to theaters, shopping, restaurants, and other Branson attractions. Beautiful surroundings and a friendly, professional staff eagerly await your arrival.
Choose from a variety of our spacious room types with all amenities. Whether relaxing in the lobby to the sound of the indoor waterfall, or enjoying our indoor pool and spa area, you?ve found your home away from home at Branson's Cascades Inn, where your comfort is our number one priority!
Extended Continental Breakfast
Biscuits and gravy, Hot & cold cereals, Donuts, Toast. Toppings that includes butter, jellies, and peanut butter. Fruit juices, Fruit, with Coffee and Tea.
Game and Fitness Rooms
Kids of all ages can enjoy our video arcade games and pool table. The arcade room is conveniently located on the first floor by the beautiful indoor pool area that stays open until midnight. The exercise room is located next to the game room, that includes an elevated commercial treadmill, rowing machine, an an eight-station Pro Gym.